Saajid Lipham
Br. Saajid Lipham grew up in Maryland where he would embrace Islam in 2008 as a senior in college.  That same year he finished earning a B.A. in Visual Communication Design from Stevenson University and went on in 2010 to enroll at the Islamic University of Madinah where he would earn an Associate's Degree in Arabic Language and then a Bachelor's in Dawah & Theology.  In 2019, he returned to the U.S. to serve as a part-time Imam, as well as an Islamic School Qur'an, Arabic, & Islamic Studies teacher in Florida.
Current classes: Arabic Letters [How to Read] , Arabic Vocabulary & Grammar , Experience the Qur'an
Muhammad James Sutton
Muhammad James Sutton is originally from Jacksonville, FL and became Muslim at the age of 15 in 1993.  He began seeking knowledge by traveling around the United States to places like Atlanta, Philadelphia, Los Angeles, and Texas, but eventually made his way to Yemen where he lived for 15 years from 2000-2015.  After Yemen, he would spend 6 years in Saudi Arabia.  During his travels, he was blessed to study subjects like Arabic, Hadith, Tafseer, Aqeedah, Fiqh, Usool Al-Fiqh, etc. with scholars in Dammaj & Sanaa (Yemen) and Riyadh (KSA).  He recently returned to his hometown of Jacksonville, FL with hopes of trying to benefit the people from what he gained during his years of seeking knowledge, insha'Allah.
Current classes: Tutoring on Telegram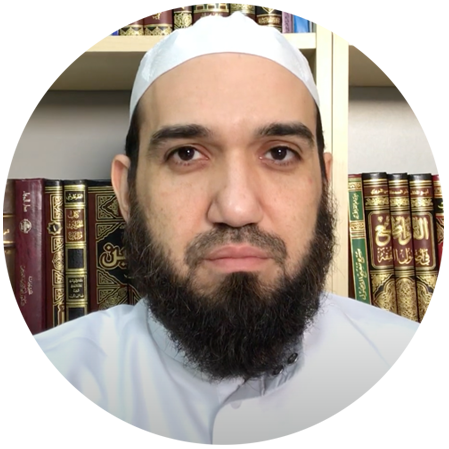 Dr. Ahmad Abdelwahab
Dr. Ahmad Abdelwahab was born in Maryland, USA and lived a large portion of his life in Maryland as well as Saudi Arabia.  His academic achievements include graduating with a Bachelor's Degree from the College of Computer Science at the University of Maryland.  He then went on to study at the Islamic University of Madinah, where he earned a Bachelor's from the College of Shariah, and then both a Master's and PhD in Fiqh.  He is the first American to earn a PhD in Fiqh from the Islamic University of Madinah.
Current classes: Fiqh: Book of Purity #1 [Rules of Water & Vessels] , Fiqh: Book of Purity #2 [Restroom Etiquettes & Personal Care] , Fiqh: Book of Purity #3 [Etiquettes of Wudu]
Dr. Khalid Green
Dr. Khalid Green is from Seattle, WA & is a teacher of religion & spirituality. He studied in Yemen & Saudi Arabia with Sh. Muqbil Bin Hadi, Sh. Abdullah Adeni, Sh. Abdul Muhsin Al-Abbad, Sh. Abdurazak Al-Abbad, Sh. Ibrahim and Sh. Suliman Al-Rehaili, Sh. Ubaid Al-Jaberi, Sh. Muhamad Al-aqeel, Sh. Salah Al-Suheemi, Sh. Salah Al-Abood, Sh. Aied Al-Shamri, Sh. Saeed Al-Halayl and many others in Al-Madina. He is a graduate of the Institute For Studying Kitab Wa Sunnah in KSA, has both a MA in Islamic Studies & P.h.D in Religious Studies from UNISA.
Current classes: Fundamentals of Islamic Creed [Aqeedah], Four Principles of Shirk
Abu Mussab Wajdi Akkari
Abu Mussab Wajdi Akkari has undergone a beautiful journey of rediscovery and enlightenment as he followed a path which made him the Muslim he is today. He holds a Bachelors in Islamic Studies from Wisdom International School for Higher Education Studies and currently resides and lectures in the Kingdom of Saudi Arabia, holding weekly lectures both in Arabic and English. Known for his dynamic talks and humorous remarks, Abu Mussab is an increasingly popular and relatable teacher for many of our youth. He strives to live up to and propagate the Quran and Sunnah to ensure the correct education of the future of our ummah.
Current classes: Understanding Allah's Names & Attributes
Ehsan Arshad
Imam Ehsan Arshad is from Birmingham, UK and is a graduate of the Islamic University of Madinah's Arabic Institute as well as the Faculty of Dawah & Usool Al-Deen.  He is currently an Imam and Head of Madrasah at Islamic Dewsbury Mosque, England.
Current classes: Takfeer
Granit Binaku
Granit Binaku was born in Prishtina, Kosovo and grew up in Toronto, Canada.  He graduated with a BA in English and a TESOL certificate from York University, Canada.  In 2008, he was accepted to the Islamic University of Madinah, where he would earn an Associates Degree in Arabic and then a Bachelor's from the Faculty of Hadith.  In 2014 he returned to Canada and continued various Da'wah activities in the Greater Toronto Area. He has taught 9-12th grade English in a private school in Toronto, and also taught Arabic and Islamic Studies to various grades at a few Islamic schools from 2015 to 2020. Granit continues to teach, counsel, give khutbas, and lecture in the GTA, Canada.
Current classes: Questions in the Grave
Harris Gafur
Imam Harris Gafur was born and raised in Mozambique.  He is a graduate of the Islamic University of Madinah's Faculty of Hadith and is currently the Imam of Masjid Abdul Gafur in Mozambique.  He is also the founder of Islamic Research Center Abdul Gafur.
Current classes: How the Sunnah was Preserved #1: The First Three Generations ,  How the Sunnah was Preserved #2: Imam Malik & Imam Ahmad ,  How the Sunnah was Preserved #3: Imam Al-Bukhari & Imam Muslim  
Omar Chatila
Br. Omar Chatila has been working in the field of Islamic Education for many years as a teacher and administrator.  After receiving his bachelor's degree in Biological Sciences from the University of Maryland College Park, Br. Omar went on to complete his Masters Degree in Management from Wake Forest University.  He has served as the Principal of a full-time Islamic school in Florida for six years, and has also served as the President of the Florida Islamic Schools Association and the Vice President of the Council of Islamic Schools in North America in the past.  Br. Omar has been actively involved in the local Muslim communities that he has lived in over the years, and has taught classes and given Khutbahs on a regular basis.  He has a wide range of teaching experience that includes teaching children in Elementary, Middle, and High School, as well as working with Graduate and Undergraduate students at the College level.  Br. Omar has studied the deen with various shuyukh and students of knowledge, both in Lebanon where he is originally from as well as here in the United States, but he has benefitted the most in furthering his journey of seeking knowledge through independently studying some of the works and lectures of Sheikh Al-Albani (rahimahullah) as well as some of his main students who are active in Jordan today, as well as other scholars from Ahlussunnah Wal Jama'ah past and present.
Current classes: Conditions of Worship [To Be Accepted]
AbdurRahman
AbdurRahman is a post-graduate researcher from the UK.  He earned a Diploma in Islamic Studies from Imam University, KSA and has specialisms in creed, history and heresiology.  He is a content creator at "Knowledge North" on YouTube.
Current classes: Islam & Philosophy